"I once asked Al Arbour what's the secret to building a team? He said no secret, it's not complicated. Get good players." – Darcy Regier So far in his run as Edmonton's general manager, Peter Chiarelli has been doing an excellent job in procuring actual NHL talent. A lot of attention has been paid to the price paid on trades for Adam Larsson and Griffin Reinhart — with good reason — but there has been undeniable progress made across the boar
Source: The Athletic
Date: 2017-09-24
Continue Reading
The Cult's "Puljujarvi steps up" podcast  You can click on this link to subscribe on iTunes. On Google Play, you can click on this link. Which of the Edmonton Oilers bubble boys be on the roster
Source: Edmonton Journal
Date: 2017-09-24
Continue Reading
On Friday against a second rate line-up of Vancouver Canucks who didn't get picked to take a trip to China, Kailer Yamamoto was a world-beater. The Edmonton Oilers' first-round, No. 22 overall, pick in the 2017 draft, scored two goals to lead the team to a 5-3 win. They were his third and fourth goals in three pre-season games. A significant percentage of the fans leaving Rogers Place decided the kid should now make the team. On Saturday night, essentially against th
Source: Edmonton Journal
Date: 2017-09-24
Continue Reading

Todd McLellan shuffled the deck after two periods last night and lit a fire that leveled the Jets. The McDavid line acquired a giant and the Nuge line picked up a very nice fit, with the result in the final 20 (four goals and a 5×5 Corsi event total of 24-7) suggesting it might be worth taking the new configuration out for a spin for often. THE DEFENSE
Source: Lowetide
Date: 2017-09-24
Continue Reading
Over the next 100 days, host Steve Dangle will break down the top 100 moments of the NHL's centennial season. Check out the entire series on Sportsnet's YouTube page and subscribe for more exclusive content. No. 16 The
Source: SportsNet
Date: 2017-09-24
Continue Reading
Mark Messier isn't the greatest player in the history of the NHL, but if you made a short list of the most complete players to ever lace their skates in the league, The Moose would be on it along with the great Gordie Howe, who set the bar as a hockey Frankenstein several generations before...
Source: Oilers Nation
Date: 2017-09-24
Continue Reading
Edmonton Oilers winger Jesse Puljujarvi is ready to prove his full-time NHL worth and appeared to do that when he hopped back into game action Saturday. With two goals and a helper, the Finnish winger made himself dominant en route to helping Edmonton to a 6-2 win over the Winnipeg Jets. Considering his performance, as […] Edmonton Oilers: Puljujarvi Returns to Spotlight in Wi
Source: Oil On Whyte
Date: 2017-09-24
Continue Reading
The Cult's "Puljujarvi steps up" podcast  You can click on this link to subscribe on iTunes. On Google Play, you can click on this link. For a few weeks now, it's been all Kailer, Kailer, Kaile
Source: Edmonton Journal
Date: 2017-09-24
Continue Reading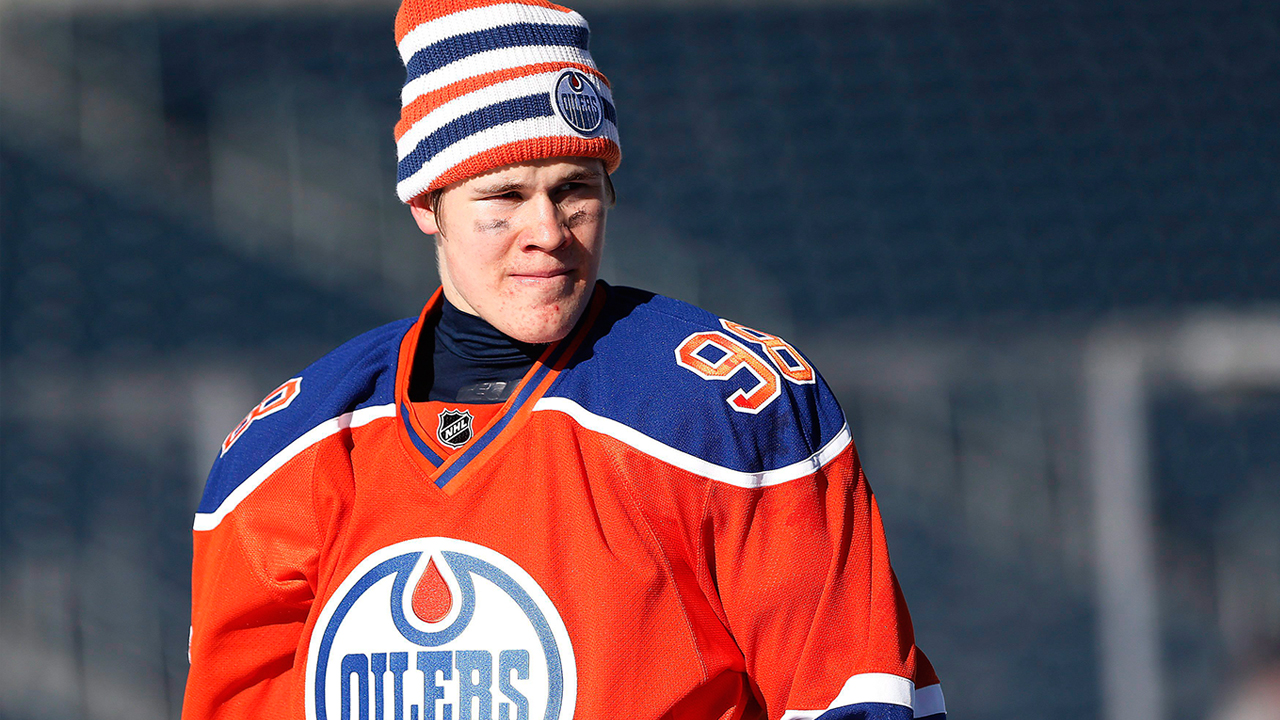 EDMONTON — There was a time, not long ago, when Jesse Puljujarvi would have made the Edmonton Oilers' Opening Day roster off a game like this one. A goal roofed off a lucky bounce behind the Winnipeg Jets net, another when the rebound of his shot was batted into the Jets goal by a defender's arm, and an assist on a
Source: SportsNet
Date: 2017-09-24
Continue Reading
It was an average Saturday night where I order a pizza and prepare for my usual Dateline: Saturday Night Mystery. As I get into my groove, it becomes clear that I will have to write a recap on a game that I did not watch. How will I do it? Will I be able to recruit outside help?
Source: Copper N Blue
Date: 2017-09-24
Continue Reading
The Edmonton Oilers have reduced their training camp roster by six players, the team announced Saturday. #Oilers assign Downing, Jones, Laleggia & Mantha to
Source: SportsNet
Date: 2017-09-24
Continue Reading