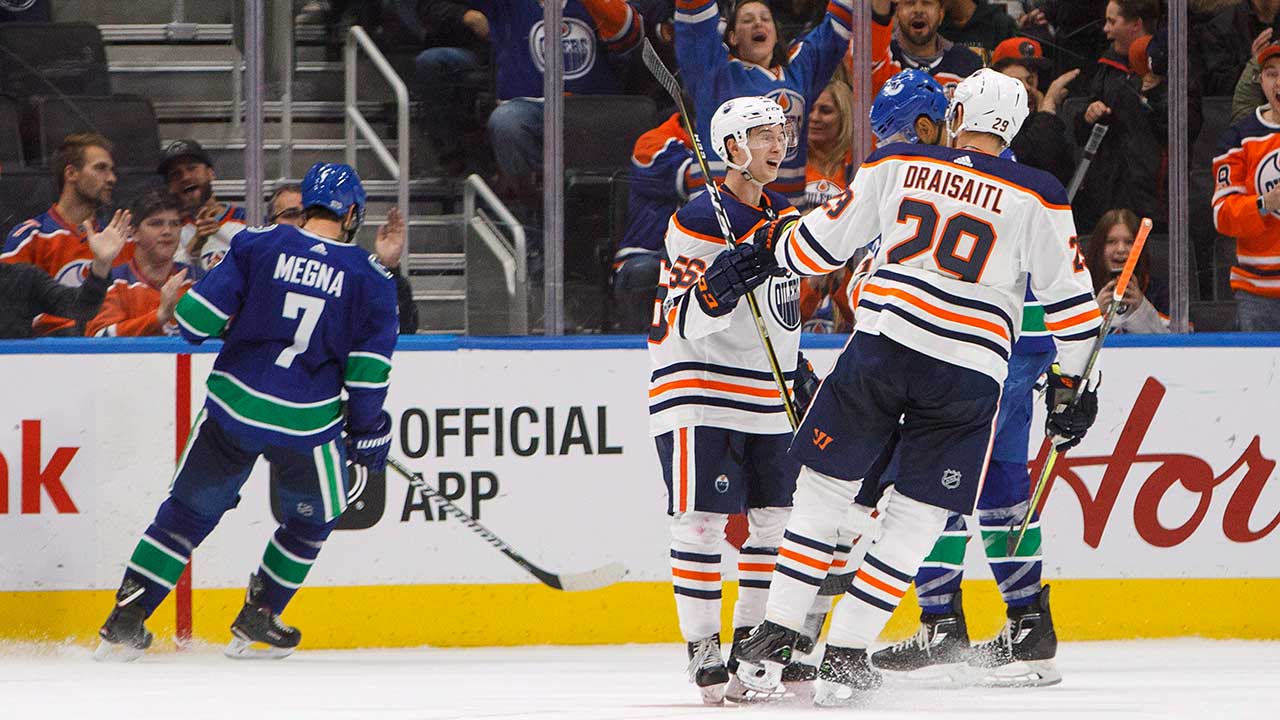 EDMONTON — Kailer Yamamoto and Iiro Pakarinen both had two goals as the Edmonton Oilers emerged with a 5-3 victory over the
Source: SportsNet
Date: 2017-09-23
Continue Reading
It wasn't a Who's Who of hockey talent Friday night at Rogers Place, but rather a Who's That? as an Edmonton Oilers skeleton crew posted a 5-3 pre-season win over the Utica Comets. The Comets were cleverly disguised as the Vancouver Canucks, but with all of Vancouver's top players over in China for games with the Los Angeles Kings, it was a lineup made up almost entirely of no-name players who'll be starting the season in the AHL. Edmonton didn't exactly go with its
Source: Edmonton Journal
Date: 2017-09-23
Continue Reading
The Oilers pre-season dominance continues. Final score: 5-3. Who wants to play a game? Let's try name every Vancouver Canuck player that was in the lineup tonight. You can hardly name anyone? Good, we're on the same page. I've actually heard of MacEwan before! But only cause I went to school there… anyways, tonight was...
Source: Oilers Nation
Date: 2017-09-23
Continue Reading
Vancouver's roster is somewhat, uh, lacking. Vancouver Canucks (2-2-0) @ Edmonton Oilers (3-0-0) Friday, September 22nd 2017 7 PM MDT Roge
Source: Copper N Blue
Date: 2017-09-23
Continue Reading
Edmonton Oilers forward Ryan Nugent-Hopkins may have experienced some bumps in the road throughout his career, but come this training camp, he is looking better. Not only does the 24-year-old centre have a goal and four points in just two games so far, but he is showing tremendous chemistry with Jussi Jokinen and company. In […] Edmonton Oilers: Ryan Nugent-Hopkins Returnin
Source: Oil On Whyte
Date: 2017-09-22
Continue Reading
Just a day after cutting 13 players from their training camp roster, the Oilers will go back to work tonight in the first of two games this weekend. In the first half of a preseason back-to-back, the Oilers will host the 'left-behinds' of the Vancouver Canucks. With most of their veterans in China, it's going to be a younger and more AHL Canuck lineup in this one. The Oilers had a similar lineup on Wednesday in Winnipeg, but still found a way to score a 4-1 victory on the road.
Source: The Oilers Rig
Date: 2017-09-22
Continue Reading
The Edmonton Oil Kings are anxious to start the Western Hockey League regular season and see what they are working with this year. The Oil Kings begin the season with a home-and-home series against the Red Deer Rebels, starting on the road Saturday (7 p.m.) and returning home Sunday (4 p.m.) at Rogers Place. "I think this weekend is very important," said Oil Kings forward Colton Kehler. "You always want to come out to a good start. There is a lot of excitement in the firs
Source: Edmonton Journal
Date: 2017-09-22
Continue Reading

The Edmonton Oilers play their fourth pre-season game tonight, against the Vancouver Canucks. The team from the left coast is bringing a team that barely qualifies as an NHL group, while the home team is giving three lines and two pairings worth of hopefuls a chance to shine. For fans, it's an opportunity to see who will step up. LIKELY LINEUP
Source: Lowetide
Date: 2017-09-22
Continue Reading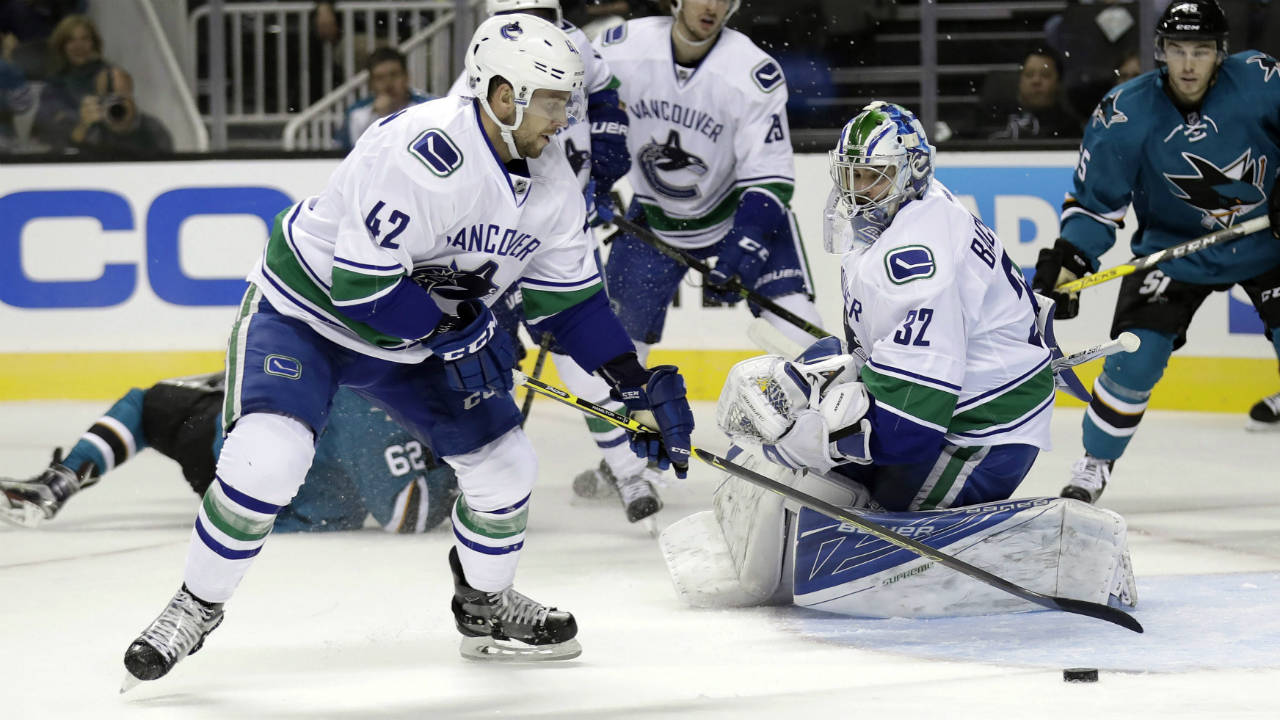 The Vancouver Canucks have reduced their training camp roster by three. Forwards Carter Bancks and Wacey Hamilton, and defenceman Jaime Sifers were sent to AHL Utica as the Canucks inch closer to their opening-night lineup. The team is currently split in two, with a younger group set to play the Edmonton Oilers on Fr
Source: SportsNet
Date: 2017-09-22
Continue Reading
We are in the dog days of the preseason. Tonight's matchup will have very little resemblance to an NHL game. The Vancouver Canucks veterans are in China playing the Los Angeles Kings, so tonight's roster for the Canucks/Utica Comets doesn't even match the criteria for an NHL preseason game. Usually, a team has to dress...
Source: Oilers Nation
Date: 2017-09-22
Continue Reading
Preseason Game Day 3: Oilers vs Canucks The Edmonton Oilers are going with players "on the edge" tonight vs the Vancouver Canucks. That's how Oilers coach Todd McLellan described it to the media today. It sounds a bit more interesting than it is. Essentially, the Oilers are going with a line-up packed with players who will be in the AHL this year.  As sports commentator Jason Gregor tweeted out, the lines are likely to be:  Lucic-Drai-Caggiula
Source: Edmonton Journal
Date: 2017-09-22
Continue Reading
As Canadian goddess Celine Dion once crooned "another year has gone by." But one year can seem awfully trite at times — fleeting and even rather arbitrary. Some years flow by, blending into one another with no discernible difference. (Edmonton fans know all about that.) But that changed for the Oilers last season. In 10 months, the mindset and expectations of an entire fan base underwent a seismic shift, from fantasizing about squeaking into the playoffs to debating how d
Source: The Athletic
Date: 2017-09-22
Continue Reading