According to TSN's Ryan Rishaug, the Edmonton Oilers have opened up contract negotiations with Patrick Maroon who is set to become an unrestricted free agent on July 1st.  Since coming over to the Oilers at the deadline back in 2016, Pat Maroon has elevated his play to a new level that I'm not sure anyone...
Source: Oilers Nation
Date: 2017-09-22
Continue Reading
It'll be a bit of an AHL showcase tonight when the Edmonton Oilers and Vancouver Canucks meet in a pre-season tilt at Rogers Place. With Vancouver's top players over in China for games with the Los Angeles Kings, the Canucks will be icing a team of young prospects tonight, prompting the Oilers to respond with a similar lineup of their own. Edmonton will dress one NHL forward line — likely Leon Draisaitl, Milan Lucic and Drake Caggiula — with the rest of the team compose
Source: Edmonton Journal
Date: 2017-09-22
Continue Reading
It took Wayne Gretzky five seasons before he won his first of his four Stanley Cups. It took Mario Lemieux seven years to hoist his first of his two Stanley Cups. It took Sidney Crosby four years to bring the cup back to Pittsburgh. As we enter year three of the McDavid era, talk of...
Source: Oilers Nation
Date: 2017-09-22
Continue Reading
Oilers put perfect preseason record up against everybody's favourites from BC
Source: Copper N Blue
Date: 2017-09-22
Continue Reading
In Part II of our of Grading Chiarelli series, we're taking a look at some of the smaller signings for the organization and the biggest signing in franchise history. For those who felt I was harsh in my grades in Part I, — and I was a little based on the uncertainty of where those moves left the club at certain positions and in respect to team needs — you'll be happy to see that Chiarelli is getting credit for some very wise decisions in this go-round. Related: 
Source: The Hockey Writers
Date: 2017-09-22
Continue Reading
This in from TSN's Ryan Rishaug, news that the Edmonton Oilers and Patrick Maroon have started talking contract: "There have been preliminary discussions between the Oilers and Maroons agent Allain Roy about an extension. still early but sounds like….There is interest on both sides in getting deal done. Maroon coming off career year and on 97's wing again, so term and $ may be tricky." Rishaug said Patrick Eaves is a good comp at three years $3.15 m
Source: Edmonton Journal
Date: 2017-09-22
Continue Reading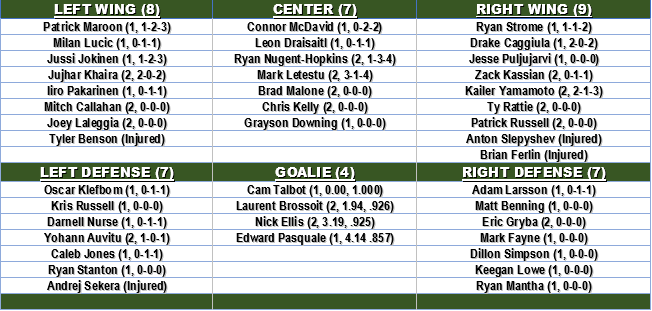 And then there were 42. The Oilers roster is pretty much set (I'd guess 20 of 23 names are 100 percent roster locks) but there are going to be some interesting developments over the next two weeks. Nice to see names like Jujhar Khaira, Caleb Jones and Kailer Yamamoto still here, shocking that Patrick Russell remains. These final cuts can be important, as recalls often go in reverse order. CURRENT TC ROSTER (42)
Source: Lowetide
Date: 2017-09-22
Continue Reading
Forwards There is stability in Edmonton with Art Ross winner Connor McDavid now signed long-term. 2016-17 sidekick Leon Draisaitl who finish eighth-best in scoring with 29 goals and 48 assists, and 27 power play points. Expect Islander import Ryan Strome to assume top right wing duties and top his career-best 50-point 2014-15, with Draisaitl dropping
Source: My NHL Trade Rumors
Date: 2017-09-22
Continue Reading
Looking at Joffrey Lupul and the Leafs; Curtis Lazar on the bubble in Calgary; Now is the time for the Wings to trade Mike Green;  the NHL crackdown on slashing and faceoff infractions; Arena battles, training camp news and more in this week's Nation Roundup brought to you by the Daily Dugout. In the Roundup, we...
Source: Oilers Nation
Date: 2017-09-22
Continue Reading
The Edmonton Oilers continued to trim their roster down Thursday, assigning 13 more players to their respective teams. Edmonton assigned Ethan Bear, Ben Betker, Greg Chase, Braden Christoffer, Joseph Gambardella, Ziyat Paigin, Kyle Platzer and Shane Starrett to the Bakersfield Condors. The Oilers also released Josh Currie, Ryan Hamilton, Zach O'Brien from their professional tryouts, […]
Source: Oil On Whyte
Date: 2017-09-22
Continue Reading
There is some intense debate taking place in Oil Country regarding Jesse Puljujarvi's performance in training camp, which comes as a bit of a surprise to Todd McLellan given that there's basically nothing to judge yet. The Oilers head coach understands that everyone is anxious for conclusions — has the 19-year-old fourth overall draft picked improved enough to make the team or should he be sent down for more seasoning? — but says any conclusions drawn at this point are wildly
Source: Edmonton Journal
Date: 2017-09-22
Continue Reading
William Lagesson is in the SHL now, fresh from a strong performance in Edmonton Oilers camp. We haven't seen Lagesson much since he was drafted in 2014, although his performances at the World Juniors in 2015 and 2016 gave us some indication about the player. SIGNING LAGESSON AGM Keith Gretzky, via Oilers Now: "William's a big,...
Source: Oilers Nation
Date: 2017-09-22
Continue Reading